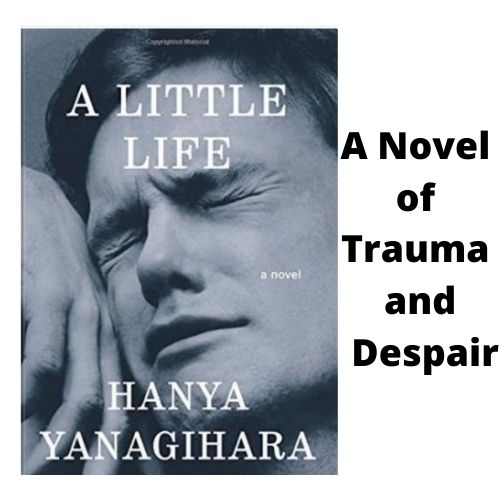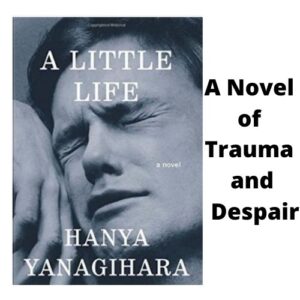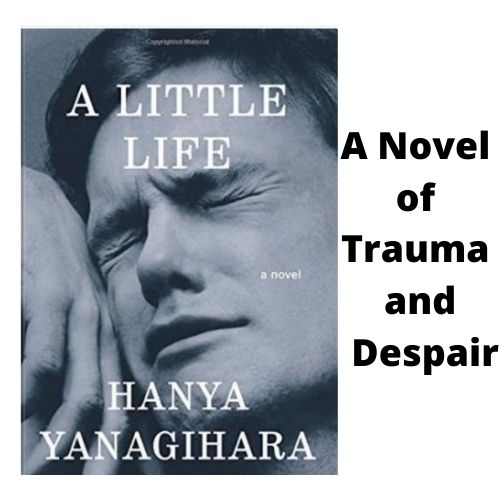 Book: A Little Life
Publication: Doubleday
Pages: 736
Introduction:
American novelist, editor, travel writer Hanya Yanagihara's A Little Life (2015) is a modern-day classic tale of despair and brooding sadness. Yes…it is also a telltale story of relationships…male relationships…complicated and intricately cordial.
The novel is a painting…"William Listening to Jude Tell a Story, Green Street" …by JB in his art gallery.
Jude is the protagonist of this novel whose life is bruised one after another with the sexual assaults and cruelties of the persons who were engaged as his caretaker. Orphan Jude was repeatedly mutilated and traumatised with coarse torture by a brother of monastery Brother Luke. Brother Luke fled the monastery taking him away and forcing him into sexual works for money. Even though the police rescued Jude from the hell of brutality, his life didn't change. It became more vicious and vulnerable. He became the victim of a sadist person Dr Traylor who raped him and wounded him severely running him over with a car. One after another throughout his life he became the prey of sexual violence and physical assault.
Despite all these savageries  Jude got college admission and was adopted as a son by professor Harold and his wife Julia. He came in close proximity of a budding group of ambitious youths and his life took a turn…good or bad.
He was included with Willem, an aspiring actor, Malcolm, an architect, JB, a painter. They succeeded in their ways of life. Jude began working as an attorney and later he joined a corporate firm. But his health condition was never peaceful and his tremendous trauma haunted him to self-torture. He started inflicting different ways of pains in his body apart from his original scars.
Willem led the most influential role in Jude's life with his love care affection for him. Their relationship is indefinable. Jude's dependence on Willem and Willem's concern for Jude is sometimes surrealistic. But despite Willem's support and care, Jude could not fully unfurl himself to Willem or any other. He could not share the traumas and nightmares of his life. And being a victim of repetitive sexual violence he could not reciprocate Willem's love though they lived together. Jude's legs which were damaged earlier had to amputate and his self flagging by cutting, burning himself continued. He could not share any of his pain through his pains and sufferings were apparent.
Meanwhile, Willem became a famous star and he had to leave Jude for his own. He had to travel a lot for his work through his concern and love for Jude never diminished. Unfortunately, Willem died pathetically in an accident while he was with Malcolm and his wife Sophie. Willem's sudden death shattered Jude's world and existence. In the desolate room, everything brought back the memory of Willem. Every drawer containing files named after Jude…Jude-I, Jude-II, Jude-III…, Jude's letters, mail's prints, gifts…all were arranged there for Jude…only Willem himself was not there… It was unbearable for Jude to overcome.
"I sometimes think I care more about your being alive than you do."
Though it is a novel of four friends its focus is on Jude…his mysterious and unsettling past, ambiguous ethnicity, disturbed mental condition, critical psychological darkness. It is a novel of pitch dark human minds where no light can penetrate…any hope can seize a trace.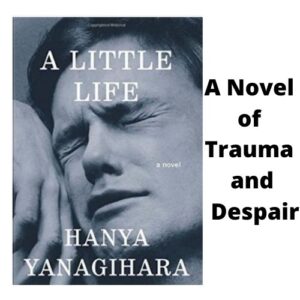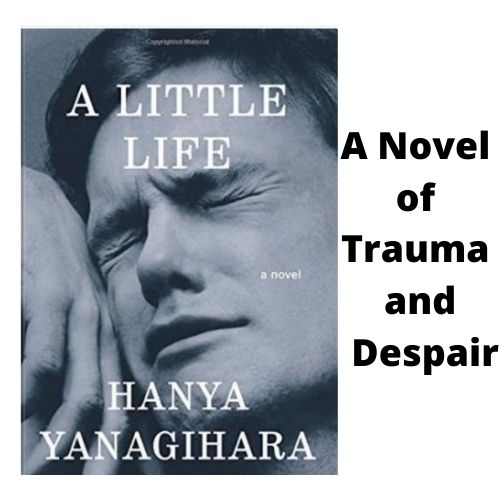 overshadowed the pages and inks…. sometimes they get blurred, sometimes grows darker.
Jude did not want to heal. His past didn't assure him the love that he got from his well-wishers. He was poisoned till the last globule. He liked to jab his old bruises and with a morbid fascination, he relished his deformities. What masochism!
Brother Luke once told him "you were born for this"…and Jude believed that… His oscillation…his grappling between depression and life all is so real and painstaking. In this way, A Little Life by Hanya Yanagihara is a graphic design of abuse and suffering
The novel though shrouded in the dense murky shadow of hopelessness and …somewhere the description of inner torment and psychological conflict clashes amazingly. Jude's pain is heartbreaking, tear-stained as well as devastating…but Willem's love and care mopped the nagging sadness.
Hanya Yanagihara is super in her handling of language with emotions. In her extraordinary brush strokes, she creates the most disturbed yet most graceful friendship.
Whenever I read a novel the characters gradually sip within me or I sip through them…a moot point. Anyway, in Hanya Yanagihara's A Little Life my emotions whirlpool among two characters, Willem and Jude and their psychological tussles…their love and friendship…or more than that.
Sometimes I get absorbed in Willem's motherly affection towards Jude, sometimes towards Jude's destructive self-loathing and self-sabotaging.
But the persistent dismality of the narrative tone droops my soul…the darkness of Jude's heart permeates within me. I desperately seek a solution…a streak of hope for Jude as well as for me…the reader. Every reader wishes to anchor somewhere through the perfect navigation of the novelist. But here I am led to nowhere…only a feeling of tortured haplessness engulfs me as I wait for the ultimate catastrophe of Jude's life after losing Willem.
Other novels of the novelist:
The People in the Trees (2013)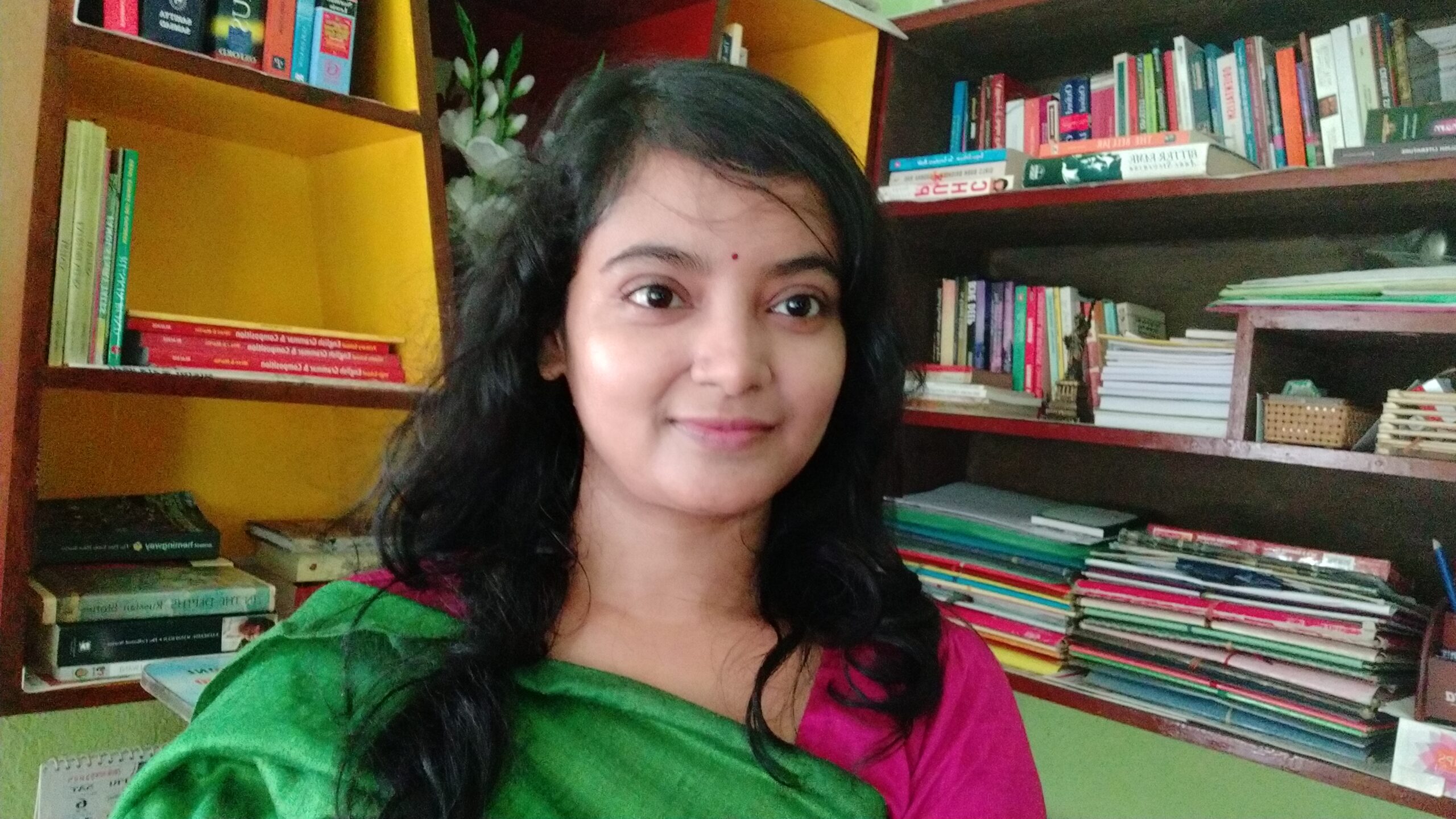 Hi, I'm Munmun here and welcome to my book blog. I'm an English Teacher. But more than that I love to read books and write down my thoughts. I feel we can change the world by circulating the introspections of great columnists throughout the world. You are free to contact me at munu.ruku2020@gmail.com.