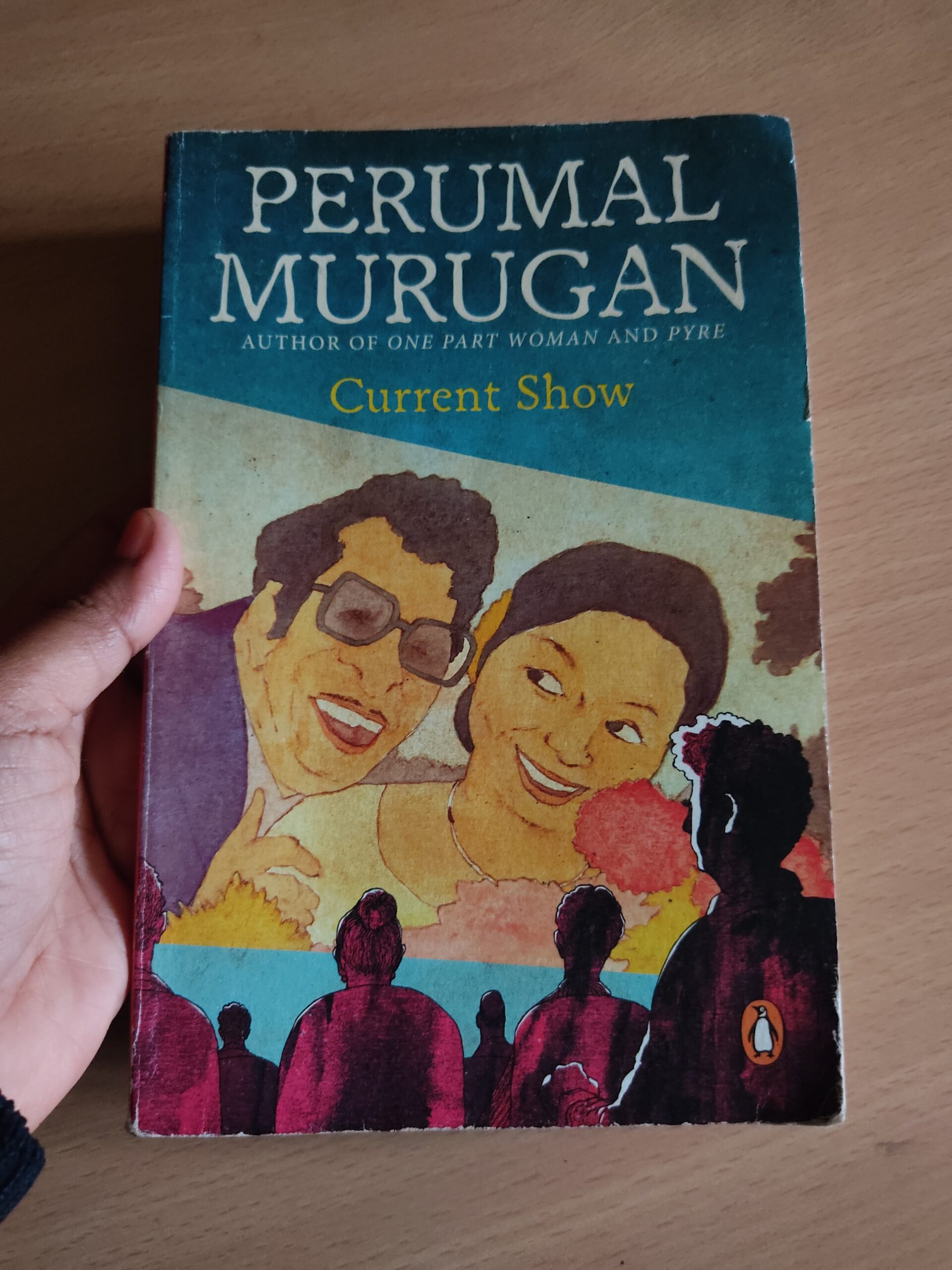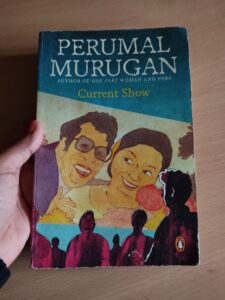 Publication: Penguin Random House India
Pages: 200
Price: Click the link
"Money is money, however, you get hold of it. Same value everywhere, for everyone."
Author Introduction:
Perumal Murugan is a contemporary Tamil author. His works mostly focus on the lives of the distressed, disadvantaged, castrated and oppressed section of the world, detached from the outer world.
Some of his major works are: Seasons of the Palm, One Part Woman, Poonachi, Estuary, Pyre etc
Book Introduction:
Like Poonachi or Pyre or One Part Woman, Current Show is not so well-known a novel by Perumal Murugan. But it bears the same touch and style of Murugan whose heroes are always real heroes, not reel heroes. They emerge from real society…the downtrodden, deprived, desolate, humble society. The book is translated by V. Geetha, a famous feminist and historian. The novel explores the impoverished life of some soda seller on a theatre campus.
Setting:
This novel is set around a movie theatre in Pasavu. It telescopes the lives of a group of young men who earn their livelihood by selling soda and other snacks during the beginning and interval of the show. Their lives are interrelated and entangled with their mutual sharing of the same deprived lives. Whatever money they earn they spend on playing cards and taking drugs or puffing 'bidis'.
They share the same uncertain future with hunger and shelterless life.

Characters:
Murugan's characters are all defined and destined with struggle and poverty.
Theatre is a major character here rounding whom the other characters develop and flourish. Sri Vimala Theatre
Sathivel: "Sathi's face is always clouded, like his heart hugs a deep sorrow."
He is one of the soda men who sell soda in the theatre. He is a silent figure who suffers in silence without protest but in suppressed rage. In this novel most of the time he mumbles, or remain silent in someone's question.
"There is something he relishes about the emptiness"- Sathi enjoys, perhaps, sips his silence.
Natesan: Like Sathivel he is a soda man who has a deep feeling and concern for Sathivel. Though at the end of the novel he left the showground somewhat mysteriously for me.
Hulk: He is rough and nasty in his behaviour and gait. He joked abusively towards others.
Muhammad: He is an eunuch. He is very tall and bold.
Sathivel's father: Sathivel's father is a poor character. He begs for his livelihood and Sathivel hates him. But he tries to win his son and comes to visit him even when Sathivel insists him not to come. He gives money to his son whatever little he can save.
Friendship:
In this loveless, hardcore society, the only soft corner was the friendship between Sathivel and Natesan.
"Sathi liked Natesan and stuck to him. Maybe because Natesan had found him hungry and weak and had bought him tea and biscuits. When the two got together, they looked at the rest of the world with contempt, as if it wasn't worthy of their attention."
Struggle for food and shelter:
Every Sodaman in the premise of cinema hall had to struggle for their existence, for food, shelter and their drug addiction.
Real-life vs reel life:
The novel concentrate constantly on the bigotry of reel life and real life. The world of screen world is far ahead of the world of real flesh and blood.
A world of addiction:
They enjoy the variety of life there in the theatre with the handful of cigarette butts, ganja, hustle and bustle variety of people.
The addiction is two-fold….one for the rash city life with its fluorescent lifestyle where the life changes colour at every nook. That's why when the soda man asked Sathivel to go with him to the village for farming he refused despite the security of livelihood.
" Sathi holds on to the soda man's cycle. Sometimes he wonders if he should go. Herding sheep can't be all that bad. He doesn't mind clearing cow shit. But stay all day on the farm? Tied for life to the same work day after day?"
The second addiction is the addiction of drug ganja, toddy.  Desperately they craved just for one puff.
Title:
Current Show, the title highlights the difficulties and uncertainties associated with human life. The lives of the sellers, the soda men centre around the ground of matiny-shows.

Story Line:
It is the story of Sathivel. He left his birthplace Pasavur for some work. He is always tired and hungry. He has to strive hard for daily livelihood. He sells soda and ran errands. He is trapped in a world of hunger, drug and deprivation. Sri Vimala Theatre unfurls the lives of such Youngs who gathers around the premises selling their wares to the visitors. From every sphere of life, people gather here as if the Theatre Premise is itself a matinee show. The story of the soda sellers is written in a cinematic style. Life is unpredictable in respect of food and shelter with the meagre pay and unhygienic existence. Now and then the sellers along with Sathivel is ill-treated. They are not taken as human beings and always looked down upon as means of suspicion. When Sathi tries to cuddle and love a kid he is abused.
" Let the water out! If there is enough to drink in the tank, no one'll buy soda. I'm telling you, let the water out." For selling soda they have to trick others.
Their craving for the heroine on the screen or the cleaning woman is again portrayed with the same vulnerability and truthfulness. The author dissects a human being from every angle of his desires and needs.
New theatre is opening 'The Rainbow' and the growing competition among them affected the life of the sellers surrounding them.
Plot structure:
The plot is not in one frame ..there are fifteen chapters…named after variegated metaphors. It appears as if there is no plot…only an accumulation of some days. They are like the pieces of a jigsaw puzzle ready to put together and give a shape …shape of human suffering. The same story repeats…same life from morning to night. Sometimes it seems boring with repetitive monotony. Some abusive words clinker just like the clinkings of soda bottles. The language, the grim, the flies, buzzing aura of insects, twilight lights all add to the solidarity of the novel.
Perumal Murugan's Sathivel and Chinua Achebe's Onkonkwo:
Sathivel despises his father and his identity being the son of a leper father. So he never wants his father to come and meet him. Sathi's fear…fear to be humiliated by his fellow persons always hunts him. When Muthu taunts him he gets furious and punches him. Again Hulk taunts him in his beggarly father's name.
" He came for you that day: 'Sathi, sathi, my child.' You were not there. I sent him away. I know your leper-father."
Just like Achebe's Okonkwo Sathi is a tragic figure in his loathing and fear for his father. Okonkwo's father was a failed man, a lazy, poor flute player who used to borrow from others for sustaining. In a way, he was also a beggar figure like Sathi's father. And like Okonkwo Sathi hates his father to a severe degree.
" Sathi clenches his fists. His heart shrinks to a small point within his ribs. His body feels hot with shame. He bends down, picks up the pile of posters and walks towards his cycle."
Hulk's laugh follows him.
Everyone taunts him as a beggar's son. He feels uneasy and disturbed. He despises himself for being a beggar's son.
The plot though realistic and minutely painstaking is not so gripping. As there is no crescendo in the ups and downs of the storyline everything falls apart. Anyway, the novel, though not fascinating like Murugan's other novels, yet in its painstaking speculation on the lives of the soda sellers, the author proves his prominence.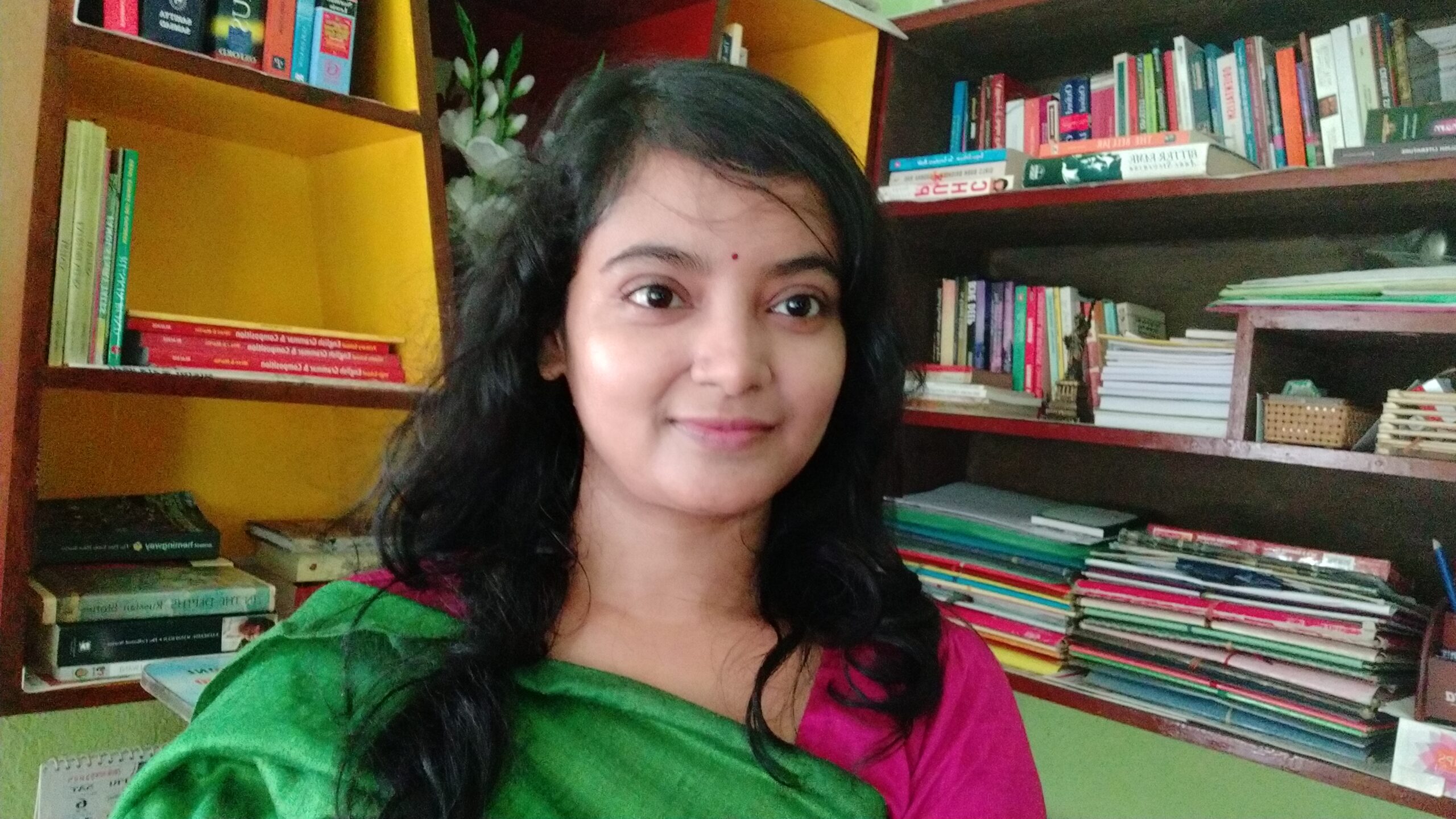 Hi, I'm Munmun here and welcome to my book blog. I'm an English Teacher. But more than that I love to read books and write down my thoughts. I feel we can change the world by circulating the introspections of great columnists throughout the world. You are free to contact me at munu.ruku2020@gmail.com.