Book:  Poonachi
Author: Perumal Murugan
Publication: Context
Pages: 184
Introduction:
"How long can an untold story rest in deep slumber within the dormant seed? I am fearful of writing about humans; … Let me write about animals."
Perumal Murugan is a celebrated name in Tamil Literature. His every fiction carries a significant mark cutting deep in human psychology, generated from his scrutinizing survey on human life and experience. Poonachi is not merely the story of a Black Goat but a symbolic resonance of fragility and fecundity of human existence.
In a nutshell:
In a "semi-arid stretch of land known as Odakkan Hill", there lived an old man with his old wife whose life was of hardship and struggle to survive in relentless adversities with the folk of sheep and goats to sustain with. Poonachi, a black goat, named by the old woman came into their family from a mysterious source. A figure of a man, elongated in the light of dusk one day handed the old man the lump of black dung…a wee goat kid and then vanished altogether.
Afterwards, Poonachi started growing up in the intensive care and cuddle of the old woman. She took every bid to feed and heal this undernourished baby, discarded and shunned by other goats and kids. From the very beginning, Poonachi's life was at knife's blade either the eagle or the voracious wildcat tried to steal her at night carrying in the maw. Again she got lost in the labyrinthine jungle route during their journey to the couple's daughter.  Uniquely, the constant careful vigil of the old woman keeps her alive amidst all adversities.
The Sufferings:
Though Poonachi's life was hard, yet later in her life, she proved to be a miracle goat, pouring wealth on the old couple whose greed snatches away every kid of Poonachi leaving her in utter dismay and distress. In addition to this, Poovan, her love was estranged from her again and again. She was weary from having experienced all the sorrows of this world. When finally Poovan was killed in the name of sacrifice she felt terrible. She stored Poovan's memory in her always- "Poonachi never ran short of memories of Poovan."
Being estranged from all her dear kids, her love, Poonachi realized the meaningless existence of her life- "All the love the couple showed her had shrunk to the length of this rope…" that the old man had twisted for her.
Wrath of Nature:
Human cruelty and indifference to animal suffering cannot surpass Nature's rage. One day draught and famine transgressed the human huts. Not a blade of grass had sprouted in the field and 'the fodder pile had dwindled to the size of a lean- to'. The old couple tried hard to survive with the dried meat and to feed pregnant Poonachi. But nothing was sufficient.
"Poonachi was emaciated and looked like a bag of bones."
A Miracle or a Curse:
When Poonachi started bestowing the couple with money,  gold and popularity they applauded her as a miracle. As soon as drought and famine lashed out the country they started cursing her as ominous.
"Ever since this cursed thing entered our house she has cleaned out all the live animals from here. Now she will wipe out the humans too, just wait and watch."
Like George Orwell's pig world in Animal Farm, Poonachi explores a wider range of the human world or an allegory of that.
Poonachi is not a female black goat. She is a complete human figure with feminine attributes. Her deep love and longing for Poovan, her jealousy for Porumi, her abhorrence for the old ram and the tall lanky goat (" It was enough to make her feel small and humiliated"), her suffering, passion, suppression all are too feminine and potent.
Ironic reflection of human society:
Again this book is an ironic reflection of human society fretted and fettered in multilayered hegemony of unsolicited hierarchies and class struggle. It is an oblique indication at the society of abuse, power politics, our insatiable greed and helplessness. The structural injustice embedded in the life of a female in a patriarchal society is well established here. The image of a totalitarian society is portrayed so sarcastically that fixes our attention to the integrity of the author's contemplation and attitude.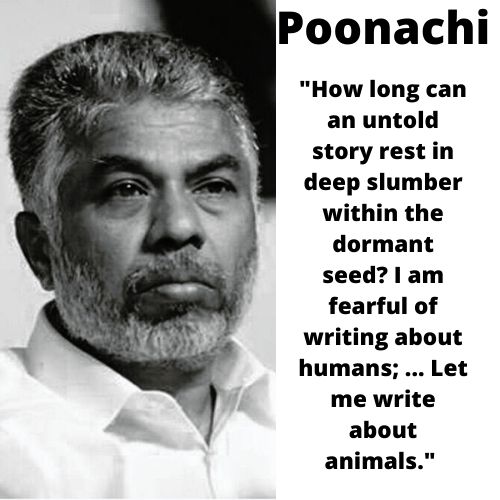 Oppressive State Apparatuses:
The practice of ear-piercing of the goat kids officially is a superb picture of power politics and an example of the Government's oppressive state apparatus. Covering a long-distance and long-standing queue with the lambs and goat kids the old, feeble, poor persons waited for the official's call to pierce the eras of them as a means of enlisting their names and official stamp to their legal birth.
"Speak softly, sir. The regime has ears on all sides.'
'There's an old saying that the regime is deaf."
"It is deaf only when we speak about our problems. When we talk about the regime, its ears are quite sharp."
All the citizens know very well about the approbated behaviour towards the regime.
"They had the mouths only to keep shut, hands only to make obeisance, knees only to bend and kneel, backs only to bend, and bodies only to shrink before the authorities."
What a witty and valiant delineation is it in the proficient pen of Murugan!
Lives of Animal:
"As we track the destiny of this orphan goat, shaped by a force-field of humans and animals, we realize that the author's real theme is our own fears and longings, primordial urges and survival tactics."
"Through his exploration of the life journey of an animal, Murugan leads us deep into ' an intimate history of humanity and the irreducible human essence that we must fight to preserve." (N. Kalyan Raman)
This novel again flips a dirty and cruel practice of our society of animal killing in the name of sacrifice to God, as Poovan was killed.
"Death can come to a buck kid at any time. We die for meat. We die for sacrifice." In its pristine crystal prism house, the novel stores myriads of implications hidden, waiting to be discerned by our cognitive acumen.
Alvina's verdict:
"No matter how much you give to this heart, it will never be enough."
Poonachi's struggle, unconscious and pathetic death welled my eyes in pain and grief that resonates through a more broad area of human existence than the fragile fate of the goat. The goat is not a goat but the animated feelings and sufferings of all of us victimized under the unavoidable situation. The simplicity of language and flow of narration is so effortlessly engrossing that a reader gets trapped in it. Finally, it is a classic reading.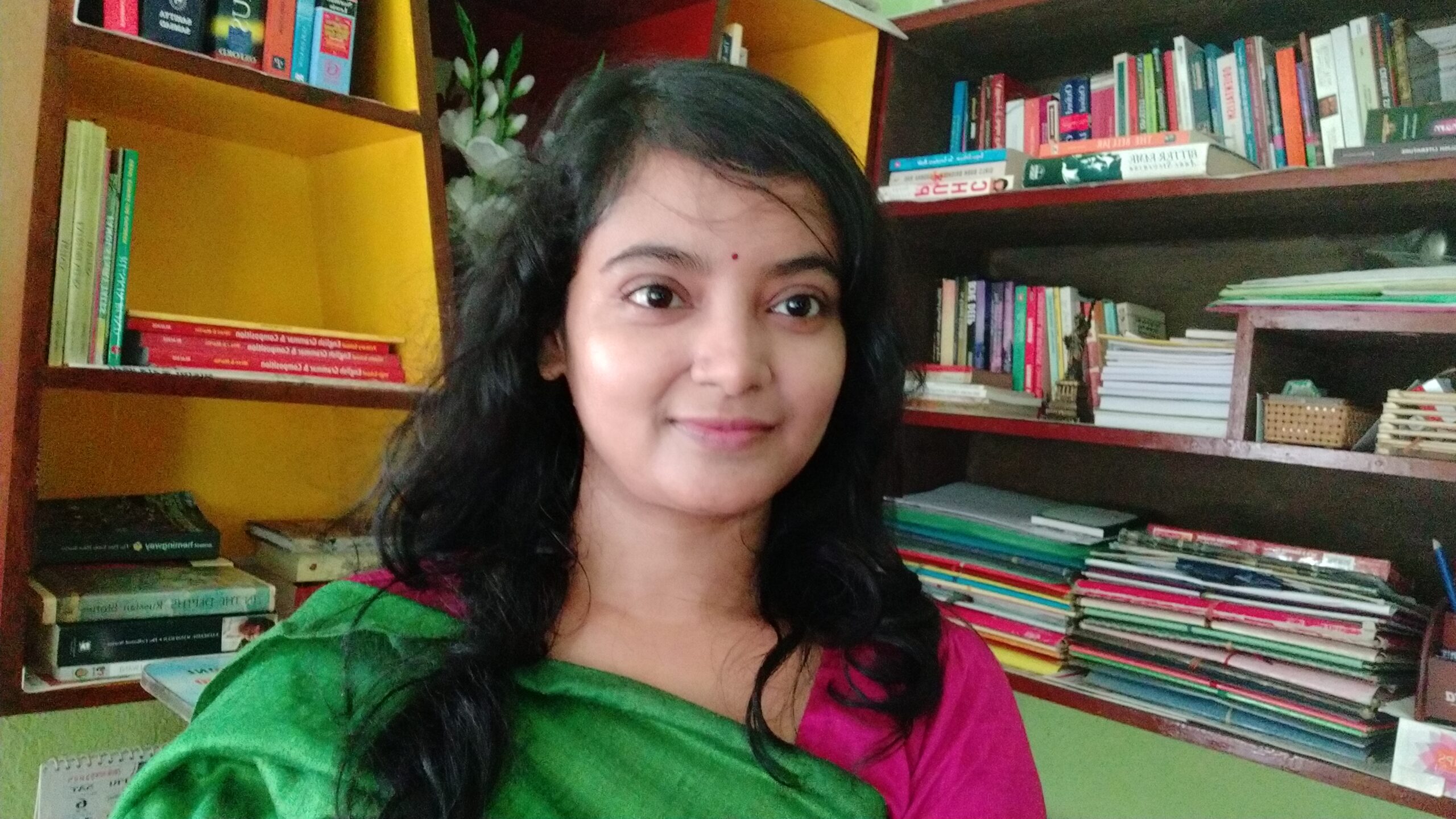 Hi, I'm Munmun here and welcome to my book blog. I'm an English Teacher. But more than that I love to read books and write down my thoughts. I feel we can change the world by circulating the introspections of great columnists throughout the world. You are free to contact me at munu.ruku2020@gmail.com.