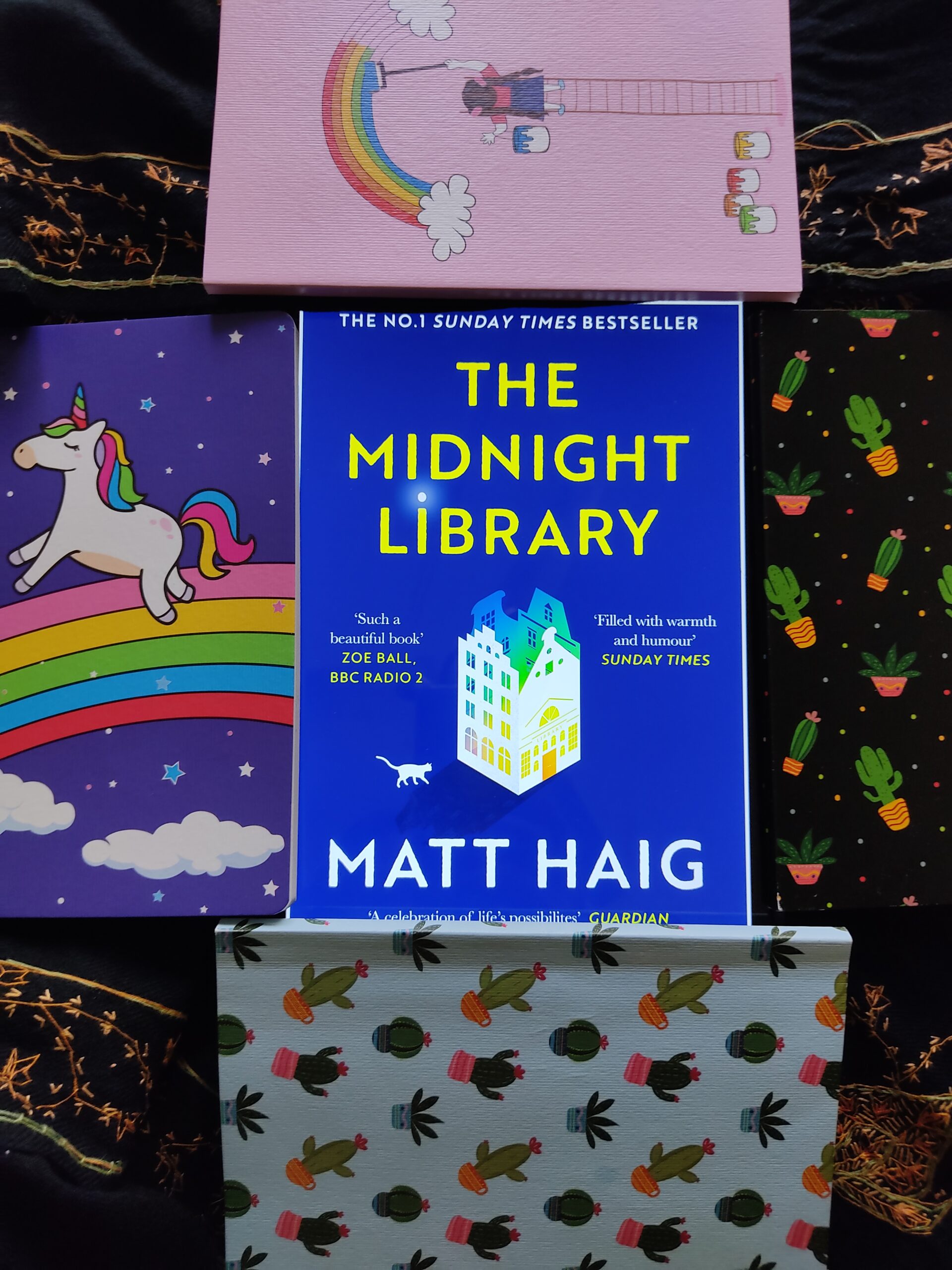 The Midnight Library by Matt Haig is a bulky novel. If you wanna take a look at the novel in a short space go through it. You will get an overall idea about the novel.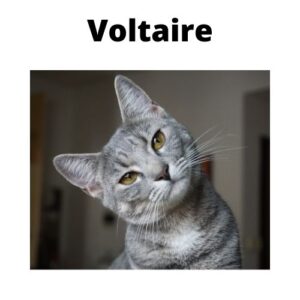 Towards Death:
The novel opens with Nora playing chess in the Hazeldene School Library, Bedford with Mrs Bedford.

 She is a well-learned girl with a curious heart. She wishes to be a good swimmer as well as a glaciologist.

Her thirst for knowledge and discovery captures her as a talented possibility but unfortunately in the very Ist chapter while playing chess in a light mood she gets the news of her father's sudden death from a heart attack.

The next chapter and onwards continue nineteen years after.

Nora met a man who informed her about the pathetic death of her cat, Voltaire lovingly Volts. He had died most probably by the hitting of a car.

Next Nora lost her job at the Music Shop. Her boss, a kind considerate man firmly declared,

"It's just that when times are tough I can't pay you to put off customers with your face looking like a wet weekend."

After losing the job Nora felt more dejected. She recalled Dan, with whom she was engaged and betrothed. But she pulled out the marriage suddenly, just two days before and came up.

"The universe tended towards chaos and entropy. That was basic thermodynamics. Maybe it was basic existence too."

She was a black hole…a dying star, collapsing in itself. So she waited for the worse things to happen…as she was certain in her heart… nothing could happen except the worse.

" I don't think your problem was stage fright or wedding fright. I think your problem was life fright."

The Midnight Library by Matt Haig

Maybe what Ravi, Nora's brother's friend told to her was right… naked truth but Nora was too weak-minded to fight the shit out of her.

Next to appear was Kerry- Anne, from her school. She reminded her about her once brilliant life as a swimmer. And she pushed Nora up to the failures of her life…no career, house, kids… nothing…a useless insignificant life.

Nora wished to escape."…she wished there were nothing but doors ahead of her, which she could walk through one by one, leaving everything behind."

Now left seven hours before her death.

One after another every single catastrophe of her life pushed her to the final hour. She tried to consult her only best friend Izzy who was over ten thousand miles away in Australia. And to her utter despair, she felt " Things had dried up between them too." She sent her message, though there she met total avoidance on the part of Izzy who has seen the message but does not respond.

There is nothing for her to add to her life.

She forgot her student who waited long at her door for the music class. And his guardian decided to give up music from his busy schedule. Everyone got fretted with Nora's irresponsible indifferent attitude. Everyone left her with no choice.

" Nora imagined the ground opening up, sending her down through the lithosphere, and the mantle, not stopping until she reached the inner core, compressed into a hard unfeeling metal."

Even four hours before her death she tried to prove some worth of her to herself. She used to pick up medicine for her eighty-four years old neighbour. But the amiable old man informed her there was no need for that as the chemist boy had moved nearby and he would drop them to him.

Nora felt, " That was it. No one needed her. She was superfluous to the universe."

No anti-depressants could help her. She had left no money to give a beggar, no one to talk to…a howling deep silence crumbled on her. Even on her social media, there were no messages, no comments, no new followers, no friend requests.

She felt her life, "a cacophony of nonsense. A piece that could have gone in wonderful directions, but now went nowhere at all."

She sipped wine and tried to play the piano. But she played nothing. The bubbling red wine firmed her decision clear and precise.

" She was not made for this life. Every move had been a mistake, every decision a disaster, every decision a disaster, every day a retreat from who she'd imagined she'd be. Swimmer. Musician, Philosopher. Spouse. Traveller. Glaciologist. Happy. Loved. Nothing.

She couldn't even manage 'cat owner'. Or '- hour-a-week piano tutor'. Or 'human capable of conversation.'"

She bid goodbye to every person she loved. Leave a voice note for her brother and became ready for death.

" She knew only one thing with absolute certainty: she didn't want to reach tomorrow…It was she decided a very good time to die."

She wrote a letter…letter of regret.

" I had all the chances to make something of my life and I blew every one of them. Through my carelessness and misfortune, the world has retreated from me, and so now it makes perfect sense that o should retreat from the world."

She then took the overdose of medicine and waited for Death.
Between Life and Death:
Time Stopped after the death of Nora as she enter the library where Mrs. Elm welcomed her with the same grace and patience though her face was stern with wisdom.
In "The Midnight Library" Nora met multiple lives that she once left unlived.
"Between life and death, there is a library and within that library, the shelves go on forever. Every book provides a chance to try another life you could have lived. To see how things would be different if you had made other choices… "
Nora felt disappointed. Even in death, she failed to die completely. As Mrs. Elm informed her she is between life and death. Death was outside waiting.
She had to live the lives she once failed to live before she could meet Death… finally, permanently.
The books that were arranged there bear the mark of failed lives…now with regret and repentance Nora have to choose those unsuccessful lives.
As Nora opened The Book of Regrets she felt "they ranged from the minor and quotidian" like not doing exercise today, not expressing her love for her father before his death,  leaving the music band "Labyrinths" and making her brother depressed, betraying Dan, her finance. Every minor and major regret crumbled on her with overwhelming demands.
Nora always had wobbled and backed out. In every decision of her life…being a swimmer or marrying Dan or going to Australia with Izzy.
And when she couldn't bear any more she closed the book at Mrs.Elm's instruction.
But then Mrs. Elm asked her which life she wanted to try on.
Finally, she chose her life with Dan.
"I wish I hadn't left Dan. And that I was still in a relationship with him. I regret us not staying together…"
But when she started living the life with Dan she didn't seem satisfied with that life.
"This was not the life she imagined it to be."
Then Nora chose her life with the cat Voltaire.
But nothing changes there as Voltaire had to die… He was suffering from ' restrictive cardiomyopathy' from his birth and going out was and hit by a car was just a coincidence.
Nothing could reverse Voltaire's death but the guilt that Nora was living with thinking of herself as a bad cat owner erased.
Nora's time remained fixed and static at midnight.
One after another Nora started to go back to the early life…the lives she had left unfinished. She met her father, swimmer class, her brother Joe.
She always hated being watched…in a swimming suit or on stage. She spoiled a music show with his brother who just felt comfortable with her making money in the band "Labyrinths".
But gradually meeting so many persons and revisiting the odd old times Nora's self-flagging attitude came to a resolution….clear understanding. She was not to blame for everyone… everything. She realized that her present life was the result of the futility of those wistful lives. She felt stronger as she no more thought of herself as a failure.
The Second Life:
And she desperately wished to live…She realised
"She might have missed those particular opportunities that led her to become an Olympic swimmer or a traveller, or a vineyard owner, or a rock star, or a planet-saving glaciologist, or a Cambridge graduate, or a mother, or the million other things, but she was still in some way all those people."
She felt this is not at all despairing but inspiring. To be happy nothing is needed…a vineyard or a California sunset. What is needed is just potentiality.
And she felt she didn't want to learn the other lives but the life she was entrusted with.
And with that realisation that her life was perfect, the Library suddenly started collapsing in fire and Nora got trapped within it.
Finally, Mrs. Elm gave her an orange plastic fountain pen. She would need it to write her own life that she wanted to live again.
Amidst smoke and dust she inscribed:
"I don't want to die" when the devastating fire consumed all other books except one perfectly green without any scratch of ink.
She wrote
"Nora wanted to live…Nora was ready to live."

But nothing happened. She underlined the word live.
The ceiling was collapsing along with the other parts, smothering the bookshelves. Desperately Nora wrote:
I AM ALIVE.
And with that determined desire he came back to life. She vomited and found herself alive.
She haggard for help to Mr. Banerjee who called an ambulance for her.
Finally, with the help of a doctor she came to life…the life she once decided to renounce, the life she wished earnestly to live.
She deleted her suicidal social media posts and wrote a new note infused with positivity and wisdom.
A Thing I have learned
(Written By A Nobody Who Has Been Everybody)
"But it is not the lives we regret not living that are the real problem. It is the regret itself. It is the regret that makes us shrivel and wither and feel like our own and other people's worst enemy. We cannot tell if any of those other versions would have been better or worse. Those lives are happening, it is true, but you are happening as well, and that is the happening we have to focus on."
As Nora stood on her ground positively everything around her changed. She got back everyone…her brother, her student,
Nora decided to be a Volcano, not a black hole. She would be the destroyer and the creator.
"She could plant a forest inside herself."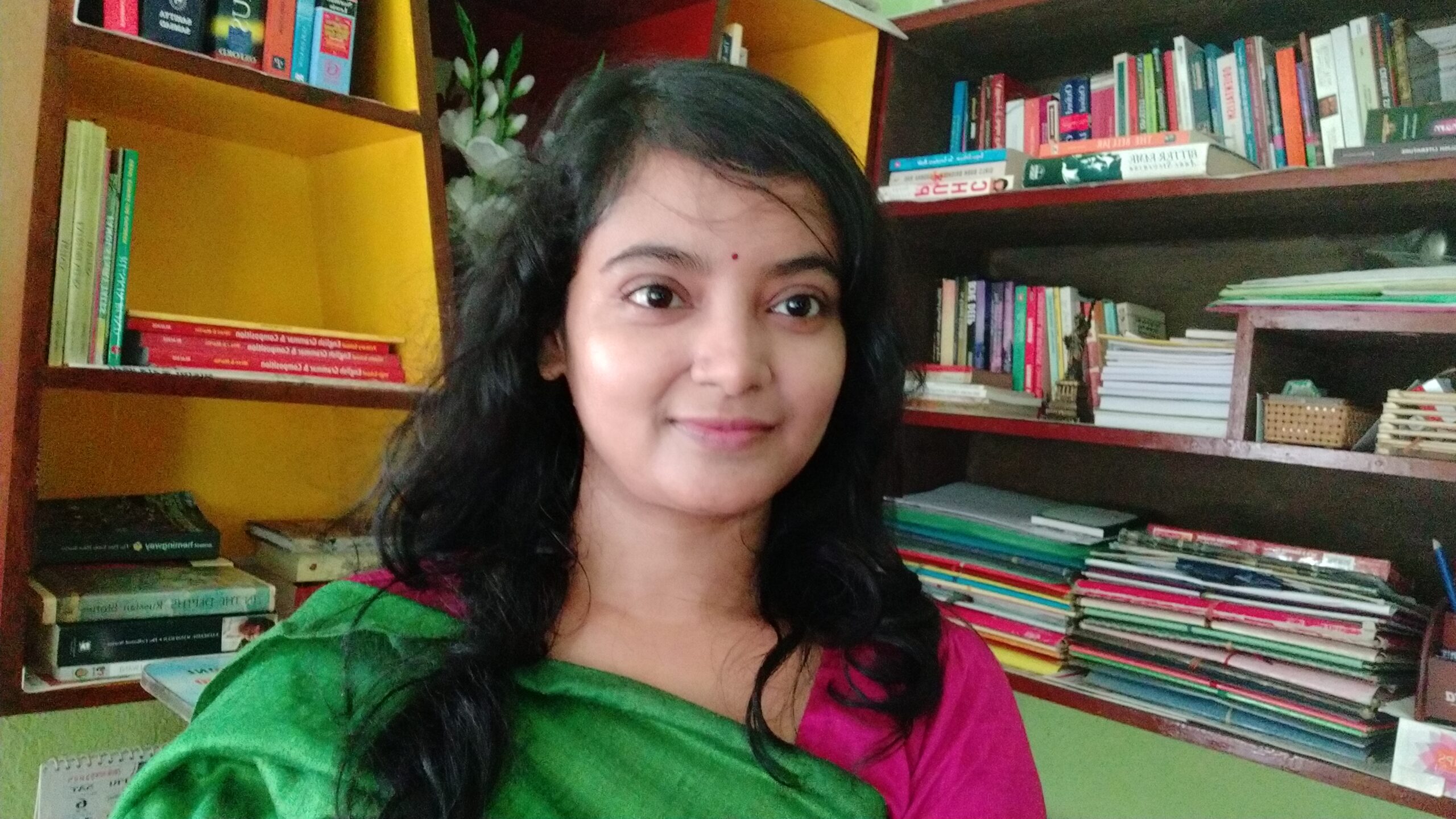 Hi, I'm Munmun here and welcome to my book blog. I'm an English Teacher. But more than that I love to read books and write down my thoughts. I feel we can change the world by circulating the introspections of great columnists throughout the world. You are free to contact me at munu.ruku2020@gmail.com.