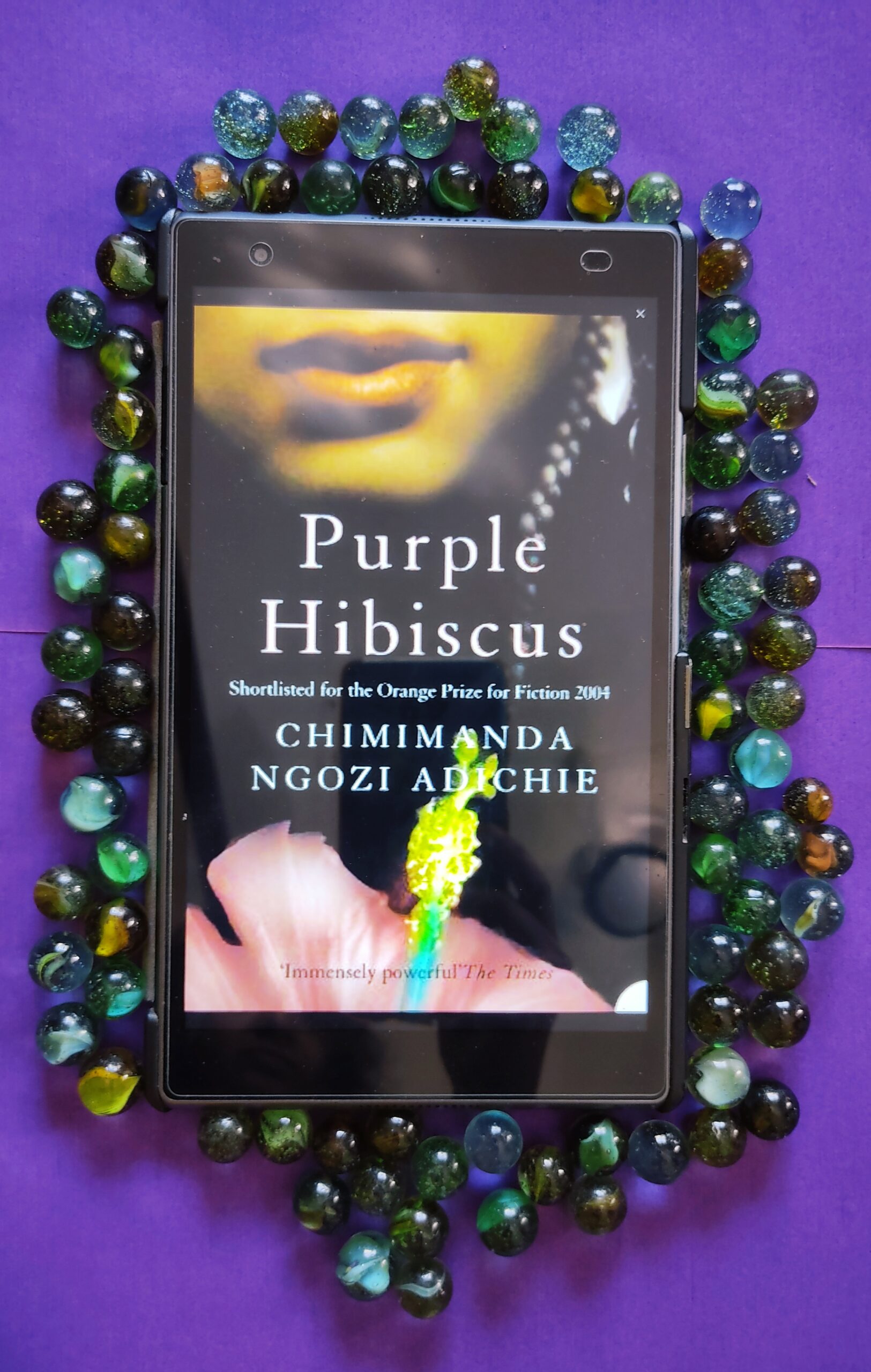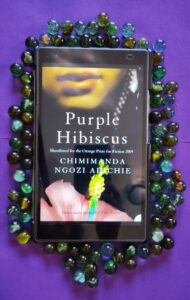 Book Name: Purple Hibiscus
Publication: Fourth Estate
Pages: 307
Introduction to the novel Purple Hibiscus:
Chimamanda Ngozi Adichie's debut novel, Purple Hibiscus was published in 2003. Set in post-colonial Nigeria, it is the coming-of-age story of Kambili, a 15-year-old girl whose family is wealthy and well respected but who is terrorized by her extremely religious Papa. Purple Hibiscus garnered the Commonwealth Writers' Prize in 2005 for Best First Book (Africa) and that year's Commonwealth Writers' Prize for Best First Book. It was also short-listed for the 2004 Orange Prize (later known as the Orange Broadband Prize and Baileys Women's Prize for Fiction).
The Setting of the novel:
The novel is written against the backdrop of post-colonial Nigeria with its political unrest and economic crisis.
A summary of the story:
The book is divided into four parts-
Breaking Gods

Speaking With Our Spirits

The Pieces of God's

A Different Silence

The story is told from the point of view of Kambili, the daughter of a wealthy Achike family in Enugu State. The family is dominated and controlled by strictly religious and conservative Papa, the father figure.
The book begins with Breaking Gods on Palm Sunday when Jaja the son of Papa Eugene and Mama Beatrice refused to join the communion and angry Papa flung his missal across the room that destroyed Mama's figurines. Instead of Jaja, the book hit the figurines of ballet dancers of Mama that were arranged on the shelves and they broke. This violent outburst at the very beginning insinuated a more ominous future for the Achike family. Jaja behaved rebelliously. And Kambili who tried to placate the situation fell ill.
" Will you replace the figurines?" When Kambili asked her mother, she said no.
"Maybe Mama had realized that she would not need the figurines anymore; that when Papa threw the missal at Jaja, it was not just the figurines that came tumbling down, it was everything. I was only now realizing it, only just letting myself think it."
The very opening of the novel hints at the violent character of Papa who was not only a fanatic religious man but also an autocratic ruler in his family. He punished his wife and children violently for trifles and always strangulated their opinions and voices within the family. They were forced to live their lives in silence and following minute perfection following the schedule that Papa decided for them. Even their behaviour and activities outside the house were watched and reported by Papa's men.
After the first chapter, Kambili led us to the past days before we arrive on Palm Sunday. So the next Chapter Speaking With Our Spirits is in flashback. It introduces the days before Palm Sunday. As a result of the tyrannical arrogant ruling of her father Kambili grew up as a timid and introvert child who was desperate to appease her father. Her friends took her as a snob as she could not express herself properly except keeping silent or fumbling for words. Despite Papa's abusive nature at home people admired and respected him for his success as a businessman and as a publisher of a newspaper "Standard" that openly criticized the corrupted Govt. Mama was pregnant but forced to attend the religious ceremony. As Mama fell ill and initially wished to stay at the car she was punished severely by Papa and had her miscarriage.
This affects Kambili too much. The trail of blood that the two siblings scrubbed and erased from the stairs through where the unconscious body of their mother was carried out by Papa to Hospital, haunted her senses.
" The words in my textbooks kept turning into blood each time I read them. Even as my first-term exams approached, even when we started to do class reviews, the words still made no sense."
As a result, she came second for the Ist time. It was a disastrous event for her. She always wanted to make Papa proud of her.
She tried to prove Papa's theory on his demand of coming first in the exam,
" God has given you much, he expects much from you. He expects perfection."
Though everyone took Kambili's silence and reserved nature as her attitude for the wealth of the Achike family, in reality, she was always in a trauma…fear…and with the burden to be in the first position in the class.
In the meantime, Papa's sister Aunt Ifeoma joined them in their home village for Christmas along with her three children- Amaka, Obiora, Chima. Aunt Ifeoma was the opposite of his brother Eugene in her outlook and perspective of life. Her children were free and comfortable in their speech and opinions. She was more like their father Papa- Nnukwu whom Eugene despised for his heathen beliefs and customs. Eugene, according to his sister was the product of colonialism and a staunch supporter of Catholicism. Later Aunt Ifeoma took Kamibli and Jajja with her to Nsukka to join a pilgrimage to a Catholic shrine with the reluctant nod of Papa Eugene.
Nsukka was different from their homeland. There is Aunt's house luxury was an unknown word with uncertain electricity, water, gas, or food. But laughter and singing the merry aspects of life was always at plenty:
 "Laughter always rang out in Aunty Ifeoma's house, and no matter where the laughter came from, it bounced around all the walls, all the rooms. Arguments rose quickly and fell just as quickly. Morning and night prayers were always peppered with songs, Igbo praise songs that usually called for hand clapping."
The freedom of speaking, laughing, walking and the right to express and live by one's own perplexed and disturbed Kambili and Jaja. They felt confused and crumpled within these two opposite views of lives. But they were happy…too much happy for the change. Here they met Father Amadi, a jolly, liberal, priest just opposite of Father Benedict whom their father followed. Even Kambili fell in love with him. They spent many hours in conversation and merriments. Kambili gradually opened up her mind in close contact with these amiable personalities and surroundings.
Papa-Nnukku became ill and Aunt Ifeoma brought him to her for treatment. Kambili did not disclose it to her father. But Papa-Nnuku died due to the strike of hospitals. But he left a mark in the minds of his grandchildren about his heathen perspectives and beliefs.
So when their father finally took them away to their own house the situation was not the same. Their silent voice had gained power already to protest and fight. As Papa Eugene came to know that they spent their time with a heathen man, Papa-Nnukku, he poured hot water on their feet to punish them.
One day Pappa Eugene discovered Papa-Nnukwu's portrait that was given to Kambili by Amanda. He broke into a violent rage and kicked Kambili to unconsciousness. After Kambili was left from Hospital she was taken by  Aunt Ifeoma along with Jaja to Nsukka to recuperate her health. Hereafter coming back to Nskka Kambili's crush on Father Amadi intensified and she began to come out of her cocoon.
After their return, the purple hibiscuses were about to bloom in their house as well as Jaja's voice of protest. Jaja refused to attend the ceremony on Palm Sunday.
The story meets here from past to present and takes the route with the third chapter, The Pieces of Gods. Jaja's continuous rebellion against Papa made Papa disturbed. He also got rashes on his face. In the meantime, Aunt Ifeoma lost her University job and applied for Visa so that she could go to America. She came to meet Eugene's family before going. Even Father Amadi was going to Germany. Before all of them left for their far destination they joined for their last trip to Nsukka. They enjoyed a very memorable happy moment together.
" I laughed. It seemed so easy now, laughter. So many things seemed easy now. Jaja was laughing, too."
That evening Mama called them to inform them that father Eugene had died on his desk in the factory.  They hurried back home.
" I had never considered the possibility that Papa would die, that Papa could die…He had seemed immortal."
The autopsy report disclosed that Papa was poisoned. Mama revealed that it was she who poisoned him mixing it in his tea. When the policemen came Jaja took the blame for the murder and went to jail.
In the final chapter A Different Silence, Jaja is released after thirty-one months. Mama's lawyers can make this. When Mama and Kambili come to meet him, Jaja becomes silent in his approach towards his family but notices his mother's loose scarf and tells her to tie it tight. Kambili starts planning to visit Nsukka first and then to go to America to visit aunt Ifeoma with Jaja. The novel ends with new hope and positivity.
"We will take Jaja to Nsukka first, and then we'll go to America to visit Aunty Ifeoma," I say. "We'll plant new orange trees in Abba when we come back, and Jaja will plant purple hibiscus, too, and I'll plant Ixora so we can suck the juices of the flowers." I am laughing. I reach out and place my arm around Mama's shoulder and she leans toward me and smiles.
Above, clouds like dyed cotton wool hang low, so low I feel I can reach out and squeeze the moisture from them. The new rains will come down soon."
"Aunty Ifeoma's little garden next to the verandah of her flat in Nsukka began to lift the silence. Jaja's defiance seemed to me now like Aunty Ifeoma's experimental purple hibiscus: rare, fragrant with the undertones of freedom, a different kind of freedom from the one the crowds waving green leaves chanted at Government Square after the coup. Freedom to be, to do."
So the force, the power that makes the silence echoed in the Achike family was not a flesh and blood character but the rare species of Hibiscus….purple hibiscus. Purple hibiscus stands for voice, for freedom, for rebellion, for determination, for identity. And after visiting the land of Purple Hibiscus,i.e the house of Aunt Ifeoma in Nsukka Jaja protested against the autocracy of Papa and Kambili came to her maturity and Mama mustered the strength to come out from the circle of brutality where she was locked for a long time, silently.

Symbols:
The Figurines:
Whenever Mama was beaten and had her miscarriage she polished the figurines like an obsession. Just like the figurines, Mama is also delicate, soft and submissive. With the breaking of figurines, Mama's delicacy is also broken. From Her glasshouse, she comes out.
Purple Hibiscus:
From aunt Ifeoma's house, Jaja brings it to Papa Eugene's house and also brings back her voice that she loses in her own house. So the purple Hibiscus, an uncommon colour for the flower hibiscus, stands for voice, for freedom, for maturity, for protest.
Lipstick:
Kambili for the first time in her life sees lipstick in Aunt Ifeoma's house when Amaka's friends came to their house. She observes its bold presence on the lips of women and realises the distinguished identity of a female apart from the male.
Palms:
Palm represents staunch religious rituals that are heartless. The palm leaves which are used in palm Sunday stand for the cruel, heartless Papa and his religion.
Blood:
Blood is found at the stairs when Mama gets a miscarriage due to the beating of Papa. Again blood replaces the black words on the leaves of the book that Kambili reads.
" Things started to fall apart at home when my brother, Jaja, did not go to communion and Papa flung his heavy missal across the room and broke the figurines on the étagère."
The novel starts with the phrase 'things fall apart' that alludes to Chinua Achebe's masterpiece Things Fall Apart. And Chinua Achebe's Okonkowa has a great similarity with Adichie's Eugene. They both hate their fathers. While Okonkowa loathed his father for his laziness and failure in his life,  Eugene abhorred his father for being a heathen, not getting converted to Christianity.
But they were different in their concept of conversion to Christianity. Though Okonkowa's son Nwomi joined the missionaries against his father's wish, Eugene did the same. Unlike  Eugene Okonkwo never bowed his head towards the colonizers, rather he welcomed his death.
The Major Characters:
Kambili:
 She is a twelve years old girl and the narrator of the novel. We probe into other characters through her eyes. She is always filled with guilt, remorse and fear. She tries hard to make her father feel happy and proud of her.
Jaja:
His original name is Chukwuka Achike. He is Kambili's elder brother. He is fifteen years old. He is openly rebellious towards his father. He does not attend the religious ceremony going against his father. At the end of the novel, he takes the blame for his mother's crime of poisoning his father to death to save her. After three years in jail, he gets released through an amnesty.
Papa Eugene Achike:
The father character is a traditionalist and devout catholic. He is a rich factory owner and also the publisher of a newspaper that talks directly against the corruption of govt. He is a conflicting character. On the one hand, he is tyrannical, authoritarian in his theory of punishment, a staunch follower of the catholic religion and on the other hand, he is brave in his defiance of the dictatorial oppressive government. In public eyes, he is a good person with his benevolence and unrighteousness. But he is just the opposite in his family.  He is again a product of colonialism. He heralds the superiority of Western culture over his own. He abandoned his Igbo language and talks in highly accentuated Igbo language. Even his children are strictly ordered to talk in English.  He also abhors his father for his worshipping of God of Woods and Nature. For him, his father was a failure.
He believes that God is punishing everyone through him and his abuses are necessary to save the soul of his family members. He is judgemental, severely orthodox, and even brutal in his treatment towards his family.
Mama, Beatrice Achike:
   She is a timid submissive character who only cares for her children and husband. She plays the role of silent nurturer and caregiver in the Achike family. She suffers several miscarriages for Papa's violence. Even then she feels grateful as Papa has not abandoned her for other wives. And she tells Kambili about this. She feels trapped between the bigotry of Papa's character. He is a powerful influential man who is outwardly a perfect man but a terrific monster for the family. So she gets confused when people say how lucky she is to get such a husband.
Two Papists: Father Benedict and Father Amadi.
Father Amadi is a young and handsome Nigerian priest. He respects his Nigerian root and blends Church songs with his Igbo songs. He incorporates the western and Nigerian cultures together in his religious practices. He is the new generation priest who does not believe in conservative harsh lifeless rituals. When Kambili falls in love with him, he treats her affectionately and maturely without hurting her adolescent sentiments. Father Benedict on the other hand is severe and staunch conservative like his follower Papa Eugene. He prefers strict rules and rituals to human life and sentiments.
Aunt Ifeoma:
Aunt Ifeoma is Papa's sister who is a stark contrast to him. She is a professor at a University  She is the cultivator of Purple Hibiscus. She is outspoken and liberal. She is brave and a doughty character. She openly criticises her brother as a product of colonialism.  She even criticises her University as well as the Nigerian government. She is unlike the other female character, Beatrice. She is loving, forgiving and kind. She is the voice for women. She also encouraged her children to speak up their minds, unlike her brother. She also helps Jaja and Kambili to get their voices that was till then strangulated by their father.
Grandfather Nnukwu Achike:
  He is the father of Eugene, the Papa and aunt Ifeoma. He is not a colonial product. And unlike his son, he still believes in traditional ways and Nigerian ancestry. He refuses to convert to Christianity.
  Themes:
Colonialism
The setting of the book is post-colonial Nigeria. Nigeria gets independence from British colonialization and proceeds in its way of freedom. The novel focuses on variegated themes of post-colonial concepts and idealism.
Papa feels colonialism is the cause of his education. Due to the colonialization of Nigeria, he gets the privilege to get highly educated. So for him, colonialism is good. But Papa Nnukwu Achike respects his heathen Igbo customs and cultures without bowing his head to the colonial powers.
On the other hand Mama is re-colonized, double fettered within the social frame of colonial religion and patriarchy.
Religion and Belief:
Religion in Chimmanda's novel Purple Hibiscus explores through two characters.  On the one hand, father Benedict is a wise man from England and he represents Orthodox religious rituals. His follower is Eugene.
On the other side Father Amadi, a friend of aunt Ifeoma believes in his religion but does not feel it mandatory to abhor and discard his own cultural and national roots. He is a modern and radical priest. He is representative of Modern Nigeria.
Freedom vs slavery: Though Nigeria was free then, people like Papa clung to their slavery as their privilege. He tries to project his English attachment throughout the novel. He abandons the tradition of his community speaking in British accent and forces his children to do so. He gets angry if the children speak in the Igbo language. So it may be the counter version of colonization.

Patriarchal autocracy: Papa represents the Patriarchal autocracy in his family. Chimamanda throughout the novel named Eugene and Beatrice as Papa and Mama as they have no other identity except being the oppressor and the oppressed inside the social hierarchy.

Violence: Violence is the most recurrent and powerful theme of the novel. The government uses crackdowns to suppress the people's voice. Pala also uses violence to strangulate his family and suppress the members under him. He beats them, tortures them mentally and physically. He kicks Kambili to unconsciousness, pours hot water on her legs, hits Jaja with heavy missal.

Retribution: Throughout the novel, Mama suffers a lot and tolerates every kind of brutality from her husband. But in the end, she poisoned him to death.

Voice and Voicelessness:
There is a consistent clash of voice and voicelessness in this novel. Papa tries to suppress the voices of Mama, Jaja, Kambili. But Jaja rebels. And when the siblings visit their aunt's house the free liberal ambience of the new setting changes their perspective. Their voicelessness transforms into the voice of protest and opinion. Mama who was the epitome of silence patience and tolerance at the end kills Papa as her inner voice protests against the long-lived brutality. Again Aunt Ifeoma represents 'voice' through her outspoken nature. She is a daring lady and does not feel afraid to protest, to express her voice even at the cost of losing her University job.
Hybridization: The entire novel is based on the concept of hybridization. Two voices, one of Eugene, dominant autocratic, and the other of Aunt Ifeoma's, liberal outspoken, contact and clash. Two religious attitudes of Father Amadi and Father Benedict, one is conventional other is radical meet in the juncture. Again the children of Papa and the children of Aunt unite to give birth to the concept of hybridization. 'Purple Hibiscus' itself is an example of hybridization. From aunt Ifeoma's house, Jaja brings it to Papa Eugene's house.
"It was wrapped in black cellophane paper, as well, and he had lodged it in the refrigerator, beneath bottles of Fanta. When he saw my puzzled look, he said they weren't just sticks; they were stalks of purple hibiscus. He would give them to the gardener. It was still harmattan and the earth was thirsty, but Aunty Ifeoma said the stalks might take root and grow if they were watered regularly, that hibiscuses didn't like too much water, but they didn't like to be too dry, either."
Silence:
Silence pervades the novel as Papa Eugene tries to maintain his rule in his family silencing the voice of his wife and children. Silence becomes integrated with the character of Kambili as she loses her power of speech and mumbles. Her friends and aunt Ifeoma's daughter Amaka take her as a snob as she cannot express herself. The children and Mama remain hushed most of the time and just mutter or mumble. They talk through their eyes.
"We went upstairs to change, Jaja and Mama and I. Our steps on the stairs were as measured and as silent as our Sundays: the silence of waiting until Papa was done with his siesta so we could have lunch; the silence of reflection time, when Papa gave us a scripture passage or a book by one of the early church fathers to read and meditate on; the silence of evening rosary; the silence of driving to the church for benediction afterwards. Even our family time on Sundays was quiet, without chess games or newspaper discussions, more in tune with the Day of Rest."
Later after her visit to Aunt Ifeoma's house, she will regain her voice and identity through her interactions with the others.
Coming of age novel:
Coming of age is a genre of literature that telescopes the growth of a protagonist from childhood to adulthood. Purple Hibiscus by Chimamanda is a coming of age story as the narrator Kambilii proceeds through the family disintegration towards her maturity. Kambili finds her identity, her maturity, her voice at the end of the novel. In Igbo, Kambili means 'let me live. Throughout her life, she tries to live even under the vicious violence and suppression of his father. When she visits her aunt's house along with her brother her perspective of life switches. There comes a radical change in her as she comes in contact with a broader world and the real world from her cloistered prison house of her Papa.
Alvina's Verdict:
The novel makes me feel worthy…worthy of being a reader. The language and narration are so fluid without any vagueness that I can go simultaneously with Kambili and revisit every situation that she faces along with the other characters. Variegated facets of life like religion, customs, colonization, patriarchal oppression, rites and rituals, the human search for identity collaborates and cobbles smartly under a perfect panorama. Through the eyes of a twelve years old girl, we traverse the whole of Nigeria, perhaps the world,  continually getting corroded and crushed under the bigotry of human behaviours and contradictions. I like the ending most for the positive note and promises.
From silence and violence, the novel lifts us towards new rain, new hope. Though Jaja's silence is laced with pathos yet with Kambili I hope for some wonders.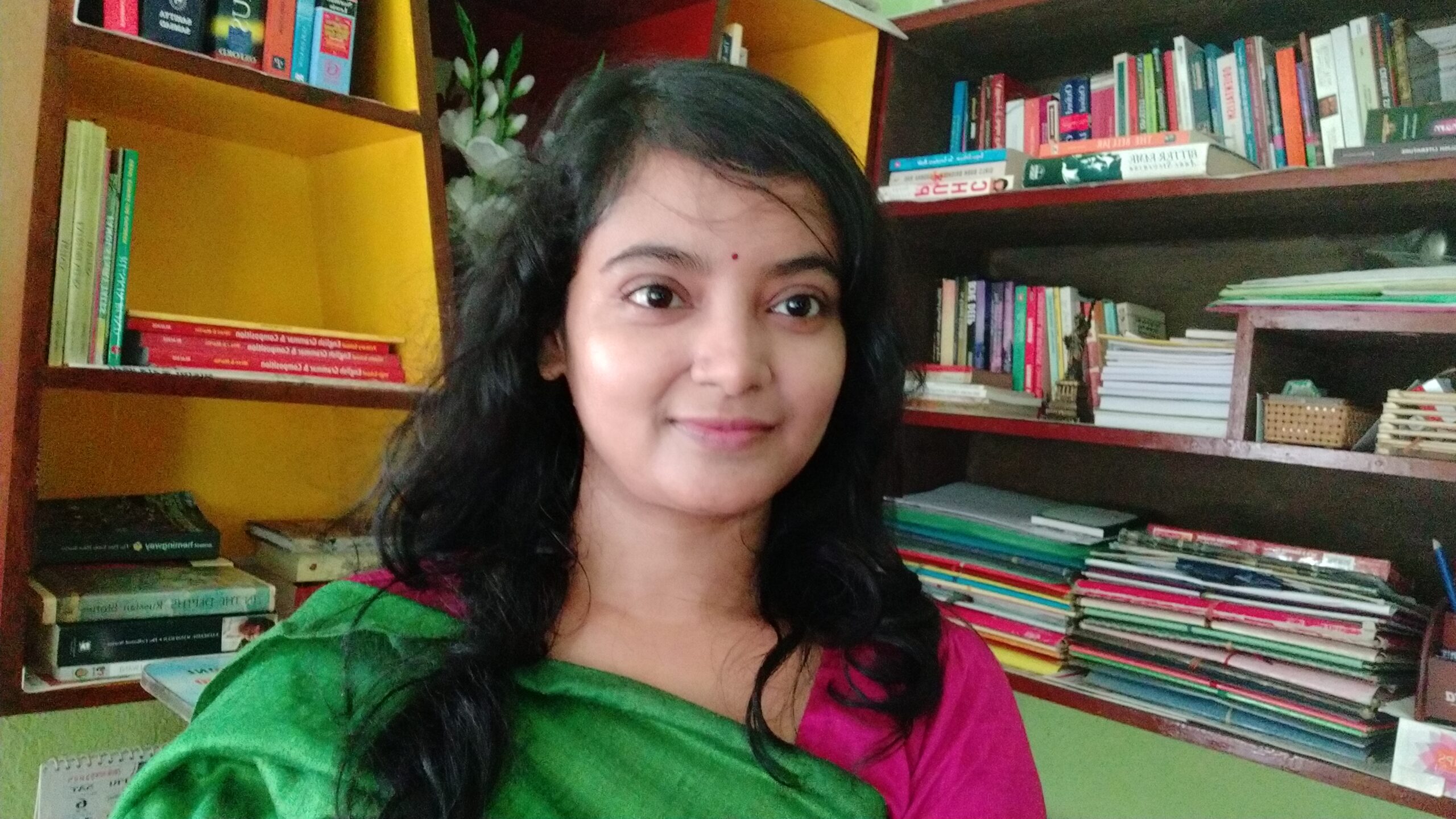 Hi, I'm Munmun here and welcome to my book blog. I'm an English Teacher. But more than that I love to read books and write down my thoughts. I feel we can change the world by circulating the introspections of great columnists throughout the world. You are free to contact me at munu.ruku2020@gmail.com.